The Sakon Group wants international visitors to be able to enjoy our all-you-can-eat yakiniku barbecue. Our buffet-style yakiniku means you can enjoy eating as much as you want of what you like. Many of our international customers have come to appreciate the Sakon Group, returning again and again. We offer the following menu and services.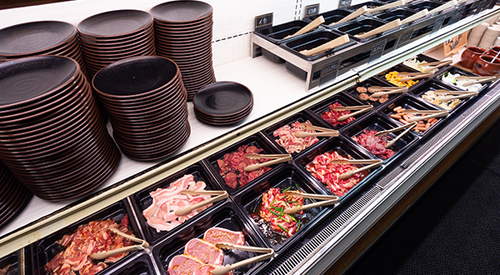 Brand 1
Everything on our menu is all-you-can-eat, including yakiniku, sushi, noodles including ramen and udon, and our hot buffet including fried chicken and fried potato, as well as salads and a whole range of other side dishes guaranteed to please everyone from small children to grandparents.
※Sushi is not available in some restaurants.
Brand 2
Help yourself from an all-you-can-eat buffet, so you can take and eat just what you like, without having to wait.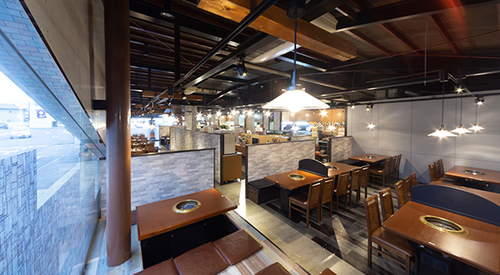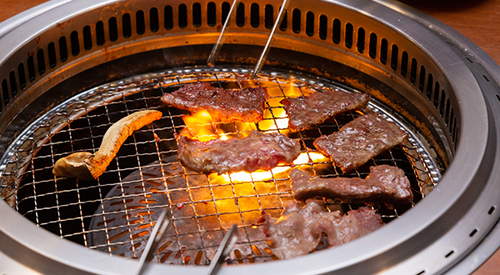 Brand 3
Water, tea, and coffee are all free. All-you-can-drink juice is available at extra cost. Special offers are also available for sake, shochu, and beer.
Brand 4
Credit card payments are accepted.
(Not all credit cards are accepted at all restaurants. Please check in advance.)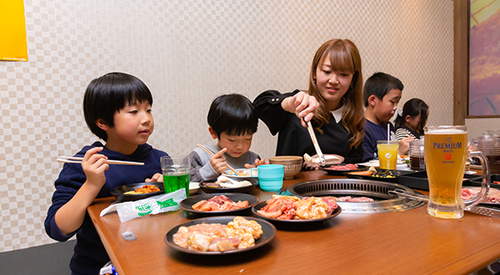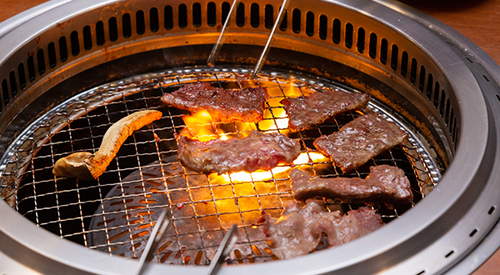 Brand 5
Prices in different restaurants may vary. Please check the page for the restaurant concerned.
Bus tour groups
Bus tour groups must make a reservation in advance. Please telephone the following Sakon Group restaurants directly (Japanese only).
Many of our restaurants have parking space for large buses, but please check when making the reservation.
Up to 300 customers can be seated at once. School trips and other student groups often use our restaurants.
The time limit for meals is approximately 60–90 minutes.
Payment by cash is preferred, but some credit cards may also be accepted. Payment by advance bank transfer may also be made on request.
(Not all credit cards are accepted at all restaurants. Please check in advance.)
A special bus tour group price is available. Tour companies receive a commission on dinners.
Dinners
Age
Price
including tax
commission
Net price
Dinner, adult
13 and up
2,200
200
2,000
Dinner, child
7–12
1,650
150
1,500
Dinner,
preschooler
3–6
550
50
500
Soft drink bar
300
*1 Tour guides
Tour guide
1,000
Attendant
1,000
Driver
550
Lunch box
1,000
Total cost
※Free meal for one tour guide per bus
※Commission is included in tax
※The commission will be discounted
Lunch
Age
Price
including tax
commission
Net price
Lunch, adult
13 and up
1,650
150
1,500
Lunch, child
7–12
1,320
120
1,200
Lunch,
preschooler
3–6
550
50
500
Soft drink bar
300
*1 Tour guides
Tour guide
1,000
Attendant
1,000
Driver
550
Lunch box
1,000
Total cost
※Free meal for one tour guide per bus
※Commission is included in tax
Reservation center for tour companies only
Sakon Business Planning Department Tel: 072-466-2301 (Japanese only)